The energy sector is all about improving the processes that aid in efficient energy production and consumption. This in turn requires constant changes in the way data is managed and accessed. And this is where technology plays a key role: IT is needed by the energy and utilities providers because they depend on constant deployment, integration and implementation. Another important factor is the access, analysis and real-time processing of data. There is a continuous need for improved processes to deliver these facilities in the most cost-effective way in order to reach business objectives. This is where APIs (Application Program Interface) come in handy.
The landscape of the digital world is changing before our very eyes. Now, more than ever is there the need for integration; conveying data, content and algorithms to mobile devices and other types of applications beyond the web. APIs have a critical role in digital transformation. They can, in fact, change the whole process of creation. They allow separate applications to communicate with each other. APIs revolutionize and change the way people access and interact with their energy and utilities providers. In the past, the conventional way used by energy companies leaned more towards a point-to-point or service-oriented approach to integration. While this is convenient when dealing with a slower pace or quick delivery of a single project at hand, it is unsustainable in a more contemporary setting, especially when factoring in areas such as customer service or field enablement which are much more complex and unpredictable. When the consumption of data is the primary objective, APIs are the tools that provide both a convenient and controlled method of connectivity. Also, what is critical is how quickly and seamlessly the company can adapt that service to changing consumer preferences.
Larger companies such as the energy sector have an interwoven network of complex components. Because of this, it is vital that they are within a framework of order, structure and mutual communication. APIs create this network of agility, speed and flexibility because they have a tripartite structure with three separate parts. This three-layered network provides both speed and agility required by customers, employees, analysts and anyone else involved. The first part or the foundation is the system layer which is the core component of record and system APIs allow us to retrieve the underlying system and expose them in a more conventional format. Next, the underlying business processes that correspond with this data need to be contained independently of the source systems from which that data originates, as well as the target channels where that data is to be conveyed. Process APIs perform specialized functions and allow access to non-central information. Lastly, data is conveyed to various different channels and platforms; each platform needs the same set of data but requires them in different forms. Experience APIs allow the reconfiguration of data so that it is easy to access and understand by each target audience. This is convenient because the data all comes from a single source instead of different sources for each platform.
Once we understand how APIs work, it becomes clear why they are so important within the energy sector. Whether you are an employee for an energy company, a utilities provider or a customer, APIs prove to be an indispensable tool when it comes to accessing and delivering data. To begin with, it allows greater developer productivity because it is complementary to a service-based approach, but has the benefit of logic added to its constituent parts and reused across numerous applications. Also, it is a tailored approach instead of a one-size-fits-all. This greatly reduces the chances of replication and instead lets developers build on each other's work. As they connect different applications and allow them to communicate, APIs ensure modularization of logic and so developers can easily plan, estimate and alter the delivery of changes to their code with minimal testing and negative impact. The use of APIs takes a more holistic approach to the concept of connectivity and that results in a much wider operational insight. It provides a deeper insight from the receipt of an initial API request to the completion of that request, based on an underlying database query. At each step, an in-depth, critical analysis takes place that cannot always be obtained when viewing connectivity in a superficial method. However, the most significant benefit is the absolute agility of API connectivity. API-led connectivity supports the ability to carry out any changes to the core systems of records, while retaining the flexibility to replicate them for user-facing edge systems, like web and mobile applications. They offer cutting costs, increased profits, rapid development and even new monetization channels like selling data.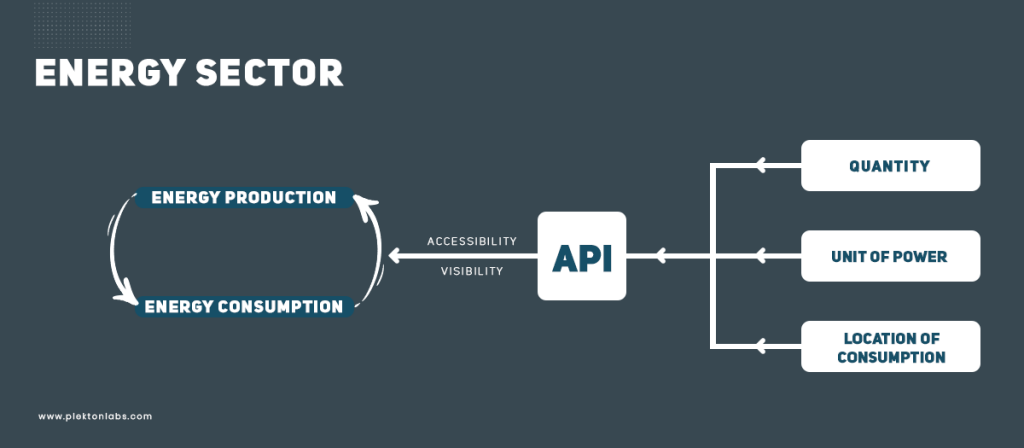 Energy-based data such as quantities, units of power, and the location of consumption enables the company to build personalized services adapted to consumer expectations. The sector is constantly on the move, requiring the need to recreate and innovate conventional business methods. Effective digital transformation will be a major competitive factor between successful companies and failing ones. It is clear that integration is the area that truly matters and so APIs are vital to energy and utilities providers because they take on the challenge of the energy transition, which is accelerating because of advances in energy production. And this is exactly why they are the trailblazers in the era of digital transformation.
Plekton Labs is a MuleSoft consulting company helps Energy, Oil and Gas companies in their digital transformation to achieve operational excellence. Establishing enterprise integration layer and utilizing API-led connectivity model save lot of money by avoiding duplication and redundancy.