In MuleSoft we will use the Anypoint Platform and write RAML (RESTful API Modeling Language) code to design and manage the RESTful APIs. It requires permission from the owner organization to use the Anypoint Platform. Or anyone can have a free 30 days trial account to access it.
Anypoint Platform
As the name denotes, it is a platform to perform various activities. This is the platform which can connect any application, API, and data source to all sort of devices. Anypoint Platform is active both in the cloud hub and on-premise.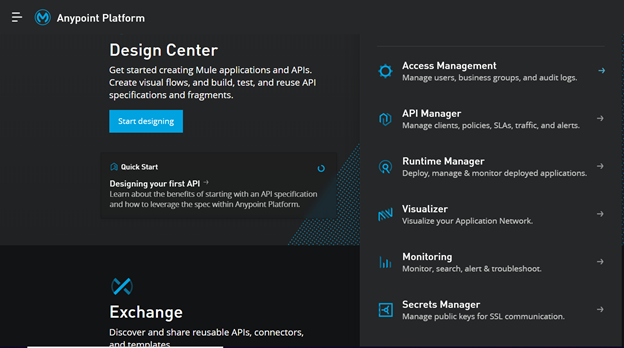 The Anypoint Platform has several components-
Design Center
Exchange
Management Center

API Manager
Runtime Manager
Access Management
Visualizer and so on.
Design Center has two tools-
API Designer – To create RESTful API specification using RMAL
Flow Designer – To create Mule applications
Anypoint Exchange can be used-
To share, discover, and incorporate the resources
To create API portals, view, and test APIs
To create assets
To perform Mocking Service etc.
In the Management Center, there are –
API Manager- This is a web interface used to administer all aspects of Anypoint Platform on-premises and in the cloud. Manage traffic, SLAs, underlying integration flows and more.
Runtime Manager- is used to deploying and managing Mule applications in the cloud, on-premises, or on Runtime Fabric.
Access Manager- is used for configuring access and permissions in the organization where the account exists and can manage the access level of the user.
RAML to write RESTful APIs
Anypoint Platform makes it easy to manage RESTful APIs from design to deployment. Our goal is to write sustainable and reusable APIs. RAML is written in YAML format which is both machine and human-readable. It is easy to read and edit. RAML allows users to define, build and collaborate on APIs rapidly and with great ease.
We will discuss RAML in another write-up.
Happy learning!
Reference