Integration is a pretty expensive part of IT organizations. The issue arises when integration doesn't deliver the desired results.
Instead of putting all your eggs in one basket, why not diversify your digital transformation strategy? We're talking about iPaaS in digital transformation and all the benefits it can deliver for your enterprise.
Contemporary digital transformation initiatives balance demanding integration requirements that aren't always prioritized by the business but still have to be carried out by IT. If not managed correctly, critical business initiatives and projects and initiatives can fall apart.
The data of every system needs to be accessible to all parties involved and this data needs to be woven together to create meaningful digital communication. Because of all this, IT needs to open up systems that weren't meant to be used in the digital age. Or they need to build reusable patterns that reduce maintenance costs and increase agility for the future.
The general approach to systems integration is used to mean connecting different systems with each other. This would embed all business and transformation logic within code that sits on one or both sides of the integration.
These fragile point-to-point integrations are hard to manage and extremely difficult to upgrade or replace. Everything is mushed together and interconnected, and as an investment in new integrations in the enterprise grows, the mess gets bigger and even more convoluted. In the end, it can be more trouble than it's worth.
So what is the solution to these issues? The answer is more sophisticated integrations using API-based connectivity. APIs make it easier to integrate applications, and these integrations are easy to deploy, and so they make it possible to connect data from different sources and applications. And this brings us to iPaaS.
MuleSoft breaks this deadlock with a simpler architectural concept known as API-led connectivity. These sophisticated integrations aren't just needed for newer or pioneering companies but for any business organization that wants to remain ahead of the competition. Features such as comprehensive mobility, customer focus, and data-driven business improvements rely fundamentally on connecting diverse data and applications.
iPaas: The Highway to Seamless Digital Transformation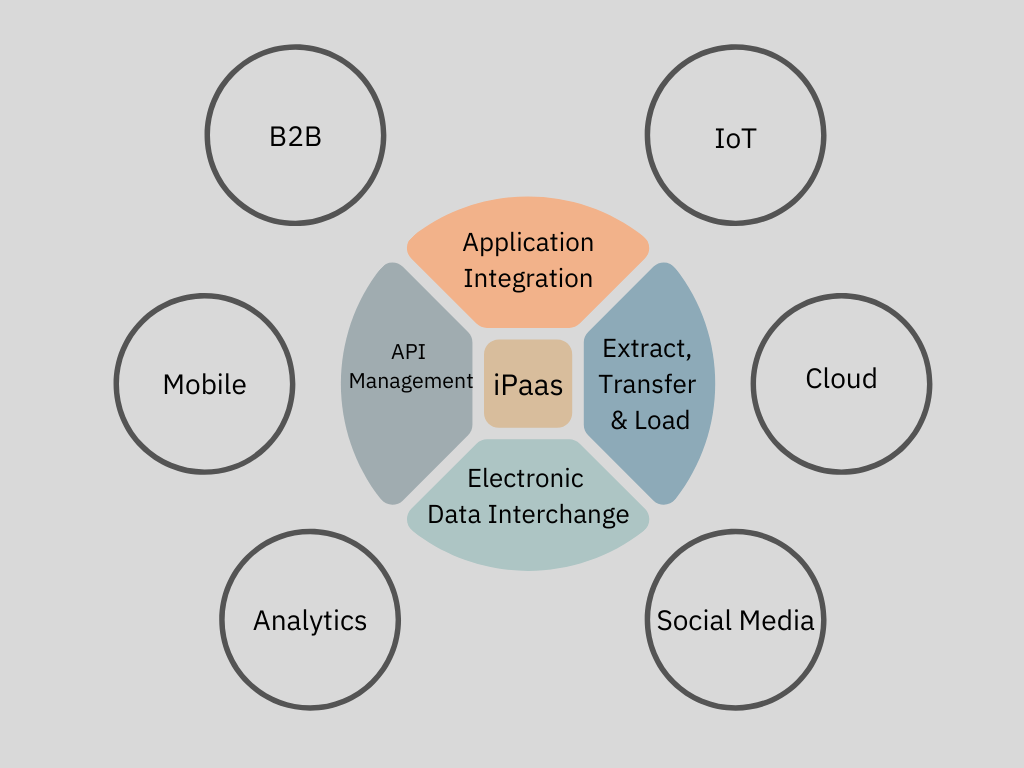 Cloud-based integration platform as a service (iPaaS) technology enables digital transformation and speeds up the process as a whole. This is because it is a self-service solution as it standardizes how applications are integrated.
This makes it easier for both small and large businesses to connect data processes, services, and applications. Sharing data with partner organizations becomes simple, and DevOps and IT departments can build integrations quickly, and gain real-time updates across the organization's application architecture.
At the same time, this can significantly save on operational costs. If you want a quick refresher on the different features and uses of the different cloud services, check this out.
Since iPaaS is cloud-based, businesses can add or modify connectors and functionality they need at any time. What makes iPaas special is that they can do so without any extra complexity or costs.
Furthermore, development teams across the world can access the same code and share the same tools without additional expenses or requiring additional development environments.
iPaaS also provides a point-and-click interface instead of weeks or even months of building connectivity. There is a library of prebuilt connections and an intuitive development environment that greatly decreases project timelines with faster deployment.
Finally, with any-to-any integration functions, iPaaS makes it much more convenient for businesses to plan and carry out IT projects for supporting things like mobility, customer service, supply chain optimization, operational efficiency, and other kinds of innovative practices.
Wrapping Up
Digital transformation is relatively 'young' and is evolving before our very eyes. The future will see more innovations like iPaaS in digital transformation and disruptive business models as different companies opt for a more digital and unified global future. Several technologies have to be properly utilized by development teams working in homegrown API-led integration environments.
This will lead to steeper learning curves, organic and complex development, and debug scenarios, and large IT investment allocated to platform code. However, this software will also have to be integrated for it to work smoothly. Businesses will have to integrate their integration tools as a condition for dealing with the backlog of existing integration requirements.
By investing in cloud services like iPaas, MuleSoft customers have to deal with fewer technologies. At the same time, they can leverage a purpose-built platform to speed up an API-led integration strategy through every phase of the systems development life cycle. MuleSoft solutions provide an ever-evolving integration platform that makes everyday challenges easier to solve quickly, allowing you to use your business resources to guide your company forward.