Providing seamless and consistent experiences to customers and partners is one of the major purposes of digital transformation. Data gives context and allows business operations to create powerful experiences. However, when data becomes stacked up and inaccessible, they become silos. The raw data is isolated and locked away from the rest of the organization. This reduces the transparency and progress of businesses.
However, data silos can be broken with an API-led approach. This will keep the application data synchronized in real-time empowering businesses to deliver dependable experiences.
What Causes Data Silos?
In common enterprise settings, a business process is often started off by applications used by customers or customer-facing employees. For instance, a shopping cart can be checked out by a customer service rep on behalf of the customer.
This data then travels through one or several specialized departments or applications for continued processing. Towards the end of the entire process, the data gets replicated many times creating data silos and it becomes harder to keep everything synchronized, needing special effort.
Businesses utilize various methods to keep data in sync; including manual data collection and point-to-point custom integrations. However, these approaches are difficult to scale and can be pretty time-consuming. Moreover, they do not meet the real-time business demands of today where instant responses are paramount.
How an API-Led Approach Breaks Data Silos
To get rid of the data silos, outlining a structured API-led integration pattern that is not only scalable but also reusable across the enterprise is the best way to go. Salesforce can be considered as the upstream application used by account managers to kick-off construction projects on behalf of the business accounts or franchises. The aim is to keep project data synchronized in real-time between two applications.
In other words, APIs break data siloes by creating the flow of data in a business. Effective integration tools and processes like scripting or ETL tools move data from their siloes to places where they can be better utilized.
Once data is centralized, a proper data governance program will make the data easier to use and access.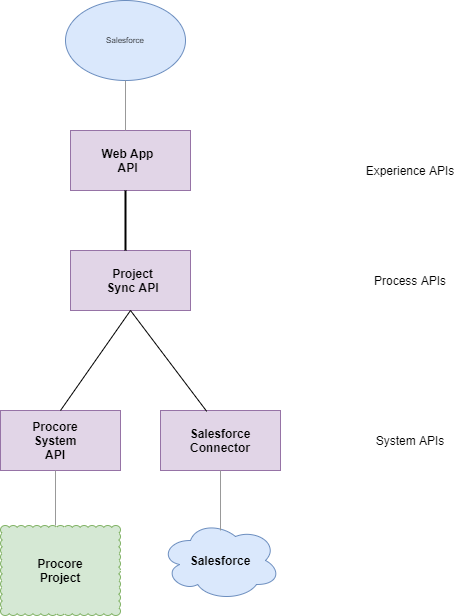 After Data Silos Are Broken: Benefits of An API-Led Approach
Government agencies and large businesses contain a huge amount of information or data. When this data is safely unlocked through APIs, they can carry out their missions better and help improve citizens' lives or improve customer experiences.
Innovative governments across Europe are demonstrating how connectivity platforms can result in governments and businesses providing most of the citizens' or customers' needs. This can mean things like getting licenses faster, applying for a visa, or booking tickets from a mobile phone at home.
This will have great effects on the future. This is because governments continue growing and keep accumulating data. Adding more data silos will just make it harder for agencies to work with various data streams. Taking an API-led approach will allow agencies and organizations to break down current silos and prevent new ones from getting accumulated.
In other words, using API-led approaches through Salesforce or other means has manifold benefits. It will increase productivity as modifications are implemented in real-time and all management levels have access to crucial functioning data. 
Moreover, this improves general product quality because constant monitoring promotes ideal operational efficiency and overall equipment effectiveness, allowing managers to actively identify errors. More importantly, it improves operational agility which lowers production downtime and advances the companies' ability to predict and circumvent potential failures and regulate changes in demand.
---
Wrapping Up
Data silos are a frequent side effect when businesses mostly use a number of SaaS applications, which presents a problem for digital transformation. While manual or point-to-point integration can help keep data in sync, it is inefficient, unscalable, and just not practical. An API-led approach and integration pattern to keep Salesforce and Procore project data in sync is just one of the ways where data can be repurposed to other applications across any large organization.