We are very excited to announce that we are going to arrange a webinar as part of our regular community workshop, on December 19, 2019 from 6:00 pm to 7:00 pm.

Plekton Labs Inc.
Topic: Introduction to the Salesforce.com Platform
Speaker: Arijit Roy, Solution Architect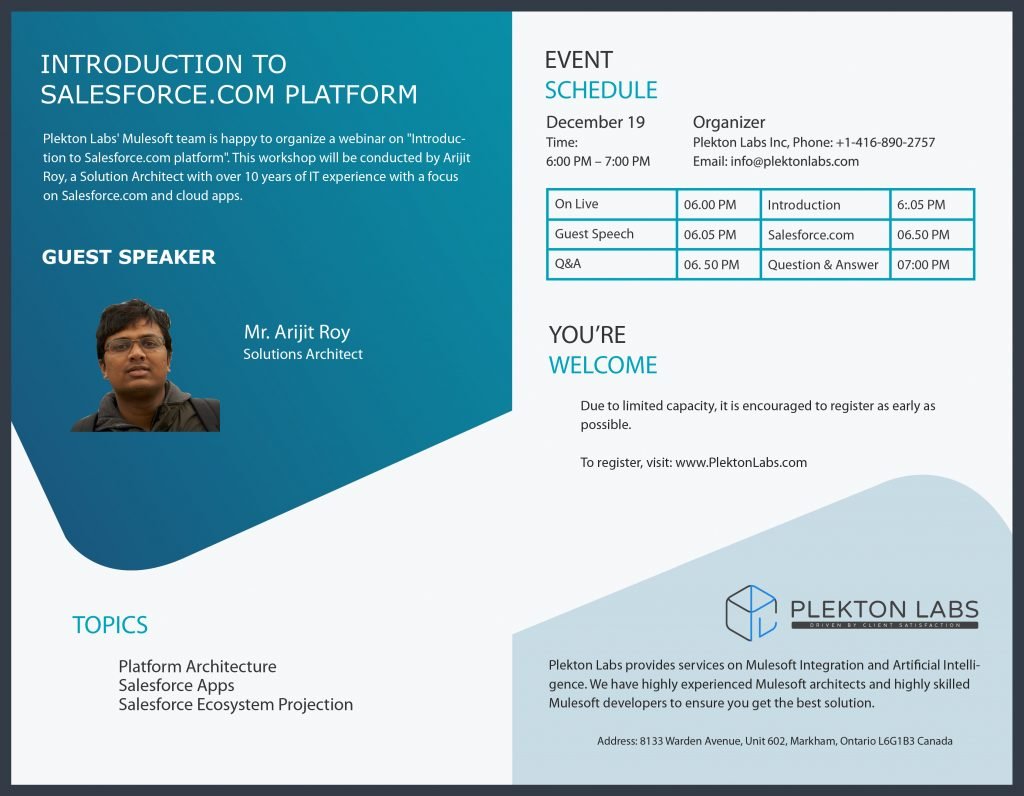 A webinar could be the best way to reach your target group. One can have a direct contact and interaction to the resource person and the target group without spending travelling time and money. Plekton Labs designed the community workshops and events to develop talents, transform the mind set by bringing the tech leaders and the community together.
Why you should join!
It is a great source of knowledge for anyone willing to learn advance technologies, especially those who are:
MuleSoft Architects
MuleSoft Developers
Solution Architects
Business Analysts
For those who are looking for Salesforce career, can take advantage of meeting industry specialist resource person.
Topics will be covered:
Salesforce Platform Architecture
Salesforce Apps
Salesforce Ecosystem Projection
More Discussion about,
Cloud vs On-Premise
Benefits of Cloud
What is Salesforce
Platform Architecture
Apps
Discover Sales Cloud
Salesforce Ecosystem Projections
Trailhead
Q&A.
There will have a question and answer session for the participants.
Our key speaker Arijit Roy is a Salesforce solution architect having 10 years IT experience. He is a tech-savvy person with aptitude and experience in adopting modern methodologies and innovative techniques.
Plekton Labs Inc. is happy to sponsor and organize the webinar and hope that it will be a great experience for all. We are looking for the Registration and participation from the architects, developers, business analysts and anyone. The one-hour long webinar is FREE registration cost.
Registrar here: plektonlabs.com
We will be waiting to meet you all in the webinar on December 19, 2019 at 6 pm.
Stay tuned with us for more exciting topics.